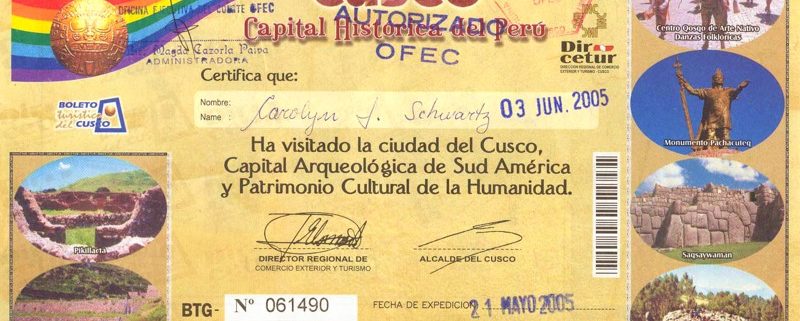 The legendary capital of the Inca Empire, Cusco is an eclectic city where the past meets the present. Too often regarded as a simple gateway to the imperial city of Machu Picchu, Cusco is actually one of South America's most vibrant cities thriving on its unique
mestizo
culture. Its cobbled streets reflect Peru's complex history with beautifully restored colonial homes built atop ancient Inca walls.You will be able to explore most of the old town on foot in three or four days. But if you really want to make the most of your time in Cusco, consider purchasing the
boleto turístico
and explore Cusco's most iconic sites.
What is Boleto Turístico?
The boleto turístico (also known as the BTCL) is a tourist ticket that allows you admission into 16 sites in and around Cusco for 10 days. For S/. 130 (~ USD $40), you can purchase the full ticket which gives you access to all of the sites. If you're short on time, or are only interested in visiting a few locations, there are also three partial tickets that cost S/. 70 (~ USD $21) each: Circuito I (Sacsayhuaman, Q'inqu Archaeological Site, Tambomachay, and Puka Pukara); Circuito II (Regional Historical Museum, Museum of Contemporary Art, Folk Art Museum, Archaeological Museum of the Koricancha, Qosqo Native Art Center, and Pachacuteq Monument); and Circuito III (Inca Písac, Ollantaytambo Ruins, Chinchero and Moray).
To purchase your ticket, head to a tourist information office in Cusco or one of the sites included in the boleto turísitico. You can simply purchase your ticket on the day you wish to use it as tickets don't run out.
Some discounts apply. International students (with proof of student status, including a signed letter and an international student card) aged 25 or less pay just S/. 70 (~ USD $21) for the full ticket.
Visit Cusco's Iconic Locations with Boleto Turístico
With the boleto turístico, you will have 10 days to explore these fascinating sites:
Archaeological Museum of the Koricancha: There's no better place to visit if you want to learn about Peru's fascinating past. The archaeological exhibitions at this museum feature finds from the pre-Inca, Inca and Colonial periods gathered in various sites around Cusco. Most of the objects, however, come from the ancient Temple of Koricancha, whose interior you'll also find replicated within the museum.
Chinchero: Less than 20 miles from Cusco, the small village of Chinchero offers an exceptional opportunity to meet real Peru. The fascinating Inca palace ruins and the colorful Sunday market are just some of the reasons to stop by. And legend has it the village is the mythical birthplace of the rainbow.
Folk Art Museum: Located in the historic center of Cusco, this art museum offers a unique insight into Peru's past. Its high-end exhibitions mix with cheeky art pieces, inserting a bit of humor into the lives of Peruvians as seen through the eyes of some of the country's greatest artists.
Moray: One of Peru's most intriguing Inca ruins are the ones found at the Moray archaeological site. Scientists still argue over the purpose of the perfectly designed levels of co-centric circles. While most believe Moray was used an agricultural lab for the Incas to improve yield in the harsh mountainous conditions, some claim that the site was actually an amphitheater used for religious celebrations.
Museum of Contemporary Art: Featuring a collection of Andean paintings and sculptures by artists such as Hilario Mendívil, Antonio Olave and Edilberto Mérida, the Museum of Contemporary Art is one of Cusco's most compact museums. It is located in the Town Hall building, in the heart of Cusco's historic center.
Qosqo Native Art Center: Live nightly performances light up the stage at Qosqo Native Art Center where you'll get to watch traditional Andean music and dance performances. The small museum features a collection of costumes and instruments used in various traditional festivals.
Ollantaytambo Archaeological Site: This small town and archaeological site in the Sacred Valley of the Incas is one of the finest surviving examples of Inca urban planning. As you walk through the village's narrow cobbled streets, you will have no problem finding several houses that date back to the Incan period. The archaeological site contains the ruins of a religious temple turned fortress during the Spanish invasion.
Pachacuteq Monument: This 37"9 tall tower monument is dedicated to Pachacuteq, the ninth ruler of the Inca state who transformed it into the powerful empire we know today. As you climb up the tower's nine floors, you'll find useful information to learn more about the fearless Inca ruler and his empire. And at the top, you'll be able to enjoy a sweeping 360-degree view of Cusco.
Piquillacta Ruins: The 8,000-acre archaeological site at Piquillacta was once one of the most spectacular centers of Wari culture. Today, its original name is not even known: Piquillacta is actually Quechua for "flea city" and its origin dates back to the end of the colonial period. But its incredible ruins and beautiful views are worth a visit.
Inca Písac: For those who love to explore off the beaten path, it doesn't get much better than Inca Písac. This hilltop Inca archaeological site, which sees very few tourists, is one of Peru's most spectacular with fascinating agricultural terraces, several (working) water channels, an Inca astronomical tool and even some ancient tombs. You can explore it all on a steep 2.5-mile trail.
Puka Pukara: The name of this ancient site (Puka Pukara means "red fortress" in Quechua) most likely comes from the red color of the rocks that were originally used to construct it. Thought to have been built during the reign of Pachacuteq, Puka Pukara's purpose is still somewhat of a mystery but there is a general agreement regarding its use as a military base. Besides featuring a wealth of internal squares, aqueducts and staircases, the site also offers fantastic views of the surrounding region.
Q'inqu Archaeological Site: This incredible structure, some 4 miles from Cusco city, is one of the largest wak'as (holy places) in the region. Primarily used for religious sacrificial and mummification ceremonies, Q'inqu is the perfect place to dive into Incan spirituality.
Regional Historical Museum: One of Cusco's most popular sites, the Regional Historical Museum will teach you all about the history of Peru through paintings, sculptures, ceramics and a collection of archaeological finds.
Sacsayhuaman: Perched on a hill on the outskirts of Cusco, Sacsayhuaman was site of an important 16th century battle during the Spanish invasion. Today, the UNESCO Heritage-listed archaeological site is one of the finest examples of Incan military construction.
Tambomachay: Also known as Los Baños del Inca (Inca Baths), Tambomachay was one of the places where the Incas performed their religious water ceremonies. The intricate system of water canals set up centuries ago is still functioning today and you can witness the water flowing into the three-tiered stone platforms.
Tipon: Thought to have been an Incan agricultural lab, Tipon is one of Peru's most impressive ruins, from an architecture perspective.  Due to the exquisitely designed water system, water is still flowing through the canals to this day, keeping the lush terraces in perfect condition.
---
Quick tip: At over 3,000 meters above sea level, altitude sickness (soroche) is a possibility in Cusco. To avoid it, remember to take it slow on your first day and stay away from the bars on your first nights. Drink lots of water, consider drinking some coca tea and head to a pharmacy if symptoms persist.
http://tourslatinamerica.com/wp-content/uploads/2016/07/boletoturisticocusco.jpg
682
800
Inês Pinto
http://staging.tourslatinamerica.com/wp-content/uploads/2016/06/TLA-text-only-logo-1030x325.png
Inês Pinto
2016-07-26 13:40:53
2016-10-06 18:07:12
Cusco's Iconic Locations (What is Boleto Turístico?)